If you feel it's time for a well-being plan, you may be wondering what the difference is between going to a therapist vs. scheduling a session with a LifeGuide (or Guide). You're not alone! There are some similarities and some differences, which makes either choice unique. Neither replaces the other, and actually both complement each other beautifully.
Therapist, LifeGuide, And Other Expertise
First, a therapist has specific education and training in psychology, mental health, or counseling, and holds a license to diagnose and treat mental illness. There are many different areas of expertise for therapists and degrees they hold, including Ph.D., MFT (Marriage and Family Therapist), and LPC (Licensed Professional Counselor). They also have additional capacities over and above diagnosing and treating mental illness, but their special training and licensing are main differentiators.
You also want to seek out a therapist, if you're dealing with any anxiety, depression, addiction, trauma, PTSD, eating disorder, in addition to a myriad of other emotional, or psychological issues.
Being a Guide is all about shared life experience. It's more relational than clinical. The Guides support others on over 400 topics. Popular sessions vary from seeking a mentor, an accountability partner, or someone to teach mindfulness and meditation. At the same time, Guides are able to support new exercise habits, stress management, or personal development goals.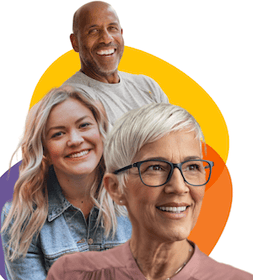 Many Guides have formal education, training, and experience in psychology, counseling, or coaching like therapists. Unlike therapists, you don't have to mess around with insurance, (physician) referrals, red tape, and paperwork. You choose the Guide, who feels right for you, for the area you're looking for - and then enjoy unlimited sessions.
Therapy and LifeGuides may also overlap with both offering guidance in moving through major life transitions, as they both are there to support you and your thriving.
In essence, if you're going through a divorce or break-up, a therapist can help to "unpack the baggage" around it, identify patterns, and speak to past experiences shaping you and your current circumstances. Whereas a Guide looks you in the eye and says, "I know what you're feeling. This is how I got through it…" Guides model resilience because they have been in a similar situation.
I often say trying to find a therapist is a lot like dating. You're looking for someone you can build an intimate relationship with (albeit professional), but it could take a long time to find the connection and the right fit. It can also involve "kissing a lot of frogs," so to speak; but, when it works, it can be invaluable.
A Guide - More Casual Than Therapy, More Qualified Than A Friend
A Guide (or multiple Guides) feels more akin to finding a friend. We have a few different friends, with each person relating to different facets of our personalities and lives. You have complete confidentiality (similar to a therapist), but there is also a casualness in talking to Guide, on a peer-to-peer level, who gets you and knows first-hand what you're going through.
Ultimately, it's up to you to choose your best path with the best well-being plan. And, it doesn't have to be an either-or decision. There are a wide range of Guides with diverse backgrounds and experiences ready to relate, be by your side, and support you.
###
Don't have LifeGuides at your organization? We'd love to show you the many benefits of our benefit - and how it works. Reach Out, Discover More!
By Julia Rebecca Miron, LifeGuide in Emotional Wellbeing & Stress