Often, there is a disconnect between how employers think they show their employees they care about them, versus how employees perceive their employer cares about them.
GEN Y & Z LOOK FOR COMPANIES WILLING TO INVEST IN THEIR PERSONAL AND PROFESSIONAL GROWTH
As Millennials and Gen Z are soon to become the majority in the workforce, companies must invest in their development or risk losing this key pool of talent.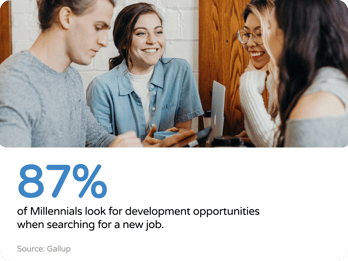 Learning provides career flexibility and mobility and that has become increasingly important for Gen Z and Millennials. The Great Resignation is evidence of how willing these new generational cohorts are to leave their jobs for other opportunities. As workers grappled with a global pandemic, high-pressure work and a move to remote, many resigned.
A SOLUTION TO EMPLOYEE GROWTH AND RETENTION?
To better address the needs of Gen Z and millennials in the workforce, companies are increasingly leaning on Learning & Development as agents of employee engagement and retention. Promoting a culture of learning that leverages subject matter experts to create and share knowledge is paramount to self-development and growth.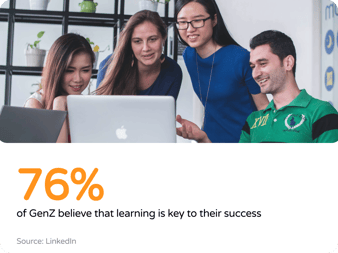 FINAL THOUGHTS
However, one of the most common concerns raised in conversations with HR and People leaders, especially in the middle of the 'Great Resignation', is "why should employers invest in their people if they're going to leave?"
Two Key Points To Consider:
Fewer employees will leave if they feel cared for by your company through learning and development opportunities that are relevant and valuable to them.

The ones that

do

stay will be happier and more productive employees.
There is only so much that People leaders can control. One thing is for sure though: by investing in solutions that support their employees' whole selves and aspirations for growth, companies are not only investing in their employees but are also investing in their own future.
Additional Support To Consider:
Through our Guide network, LifeGuides offers personalized, human-to-human support to help your employees grow personally and professionally. Whether it's in 1-1 setting, or via curated online educational sessions, you can easily scale and customize your L&D efforts at a very affordable price.
Bonus Video: Meet Sarah, one of our most requested Guides.
By Stephan Vincent, Sr. Director of Workplace Experience, LifeGuides
Building amazing company cultures centered around purpose, people-first mindset, human experience, and ❤️ for one another to optimize team performance
Let's Connect on LinkedIn!