LinkedIn's 2022 Global Talent Trends report reveals a "watershed moment that's redefining the relationship between employers and employees". Employees are demanding more freedom in work hours and location, as well as more attention to their wellbeing, a trend reinforced post pandemic.
"The contract between employees and employers is being rewritten," said Jennifer Shappley, Global Head of Talent Acquisition for LinkedIn. "What employees used to accept is no longer acceptable to them," she added. "When they aren't feeling care and love from their employers, they are leaving."
The pandemic has accelerated the conversation on mental health and wellbeing, with more than three-quarters of employers citing mental and behavioral issues as the main focus to improve workers' wellbeing over the next three years, according to a survey by Willis Towers Watson.
Mental health disorders are common in the workforce globally; around three in 10 employees suffer from severe stress, anxiety or depression.
It is noteworthy how mental health impacts employers in a range of adverse ways.
Financial and job security are leading sources of stress globally, and there are strong links between financial worries, stress and poor health.

Employees who are in the poorest health report more than double the absences and more than 25% higher presenteeism than other colleagues, and they are more than twice as likely to be disengaged from their jobs and almost three times as likely to experience high stress as those in very good health.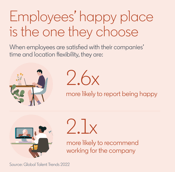 When workers are content there is a direct result on what they bring to the workplace. In fact, employees are 13% more productive when happy, according to research by Oxford University's Saïd Business School.
Employees who are satisfied with their company's time and location flexibility are 2.6 times more likely to report being happy and 2.1 times more likely to recommend working at the company, according to LinkedIn's data.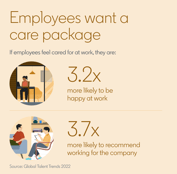 Those who feel cared for at work are 3.2 times more likely to be happy and 3.7 times more likely to recommend their employer as a place to work, LinkedIn found.
Not all employees are dealt with the best cards in life, they must bluff, or put their poker face on like everything is OK. Now is the time to reshuffle the card deck and give your people the upper hand.
Bonus Video Content: Meet Scott, one of our top Guides.

By Stephan Vincent, Sr. Director of Workplace Experience, LifeGuides
Building amazing company cultures centered around purpose, people-first mindset, human experience, and ❤️ for one another to optimize team performance
Let's Connect on LinkedIn!