The Great Resignation has now evolved into The Great Reset. Yes, we have another "Great."
What makes this one different? Or, "Great?"
Employees are driving change. Leadership is not only acknowledging it, but also starting to reshuffle and reset priorities to create new workflows, new programs, and new benefits to support their employees. Let's take a look at where we've been, the great strides we've made, and where we can go.
A Look Back Reveals Today's Great Reset
In April 2021, Anthony Klotz, a psychologist and management professor, unveiled his now-famous phrase with predictions of the "The Great Resignation." A month later the floodgates opened with a record-topping 4M+ employees quitting per month.
As he reflected recently to CNBC, Klotz emphasized how "the pandemic has brought the future of work into the present of work." What is the future of work? He points to employees wanting to restructure
their lives to reflect the flexibility and autonomy of remote work. Klotz goes on to say, "the new changes are here to stay."
The pandemic gave rise to a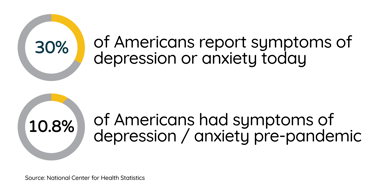 serious mental health and employee well-being crisis and its repercussions are still being felt. A recent pulse survey from the National Center for Health Statistics showed more than 30% of (working age) Americans reported symptoms of depression, or anxiety. Prior to the pandemic, the number was 10.8%.
To The Great Reset
With talent rapidly diminishing at companies and turnover costs increasing, employers can no longer afford to ignore the current climate. As Klotz points out, "much of the resignation activity we're seeing [now] is comprised of employees moving toward companies that have made the shift, that have embraced the future of work rather than resisted it."
It is quite evident flexibility, along with mental, emotional, and physical well-being are key for workers with 63% of current job seekers citing work-life balance a top priority, according to LinkedIn's 2022 Global Talent Trends.
Employees are recognizing their own heightened needs for a new approach to wellness and well-being, by directly raising their expectations to employers.

Companies and HR professionals who have made the shift experience less attrition.
From research at the
SHRM Foundation
, it was found 86% of HR professionals believe offering mental health resources and benefits increase employee retention - and "can be the real weapon in the war for talent."
The survey also showed 88% of respondents believe a focus on employee well-being boosts productivity.
The Secret Sauce of Well-being Benefits
Well-being benefits are quickly proving to be the secret sauce for organizations in The Great Reset. Demonstrating care and support for the whole person embraces the future of work. It is the "Great" outcome for employees and creates positive returns for organizations for years to come.
Want to level up your well-being benefits?
Reach out
to learn how LifeGuides supports the whole person, supports today's employees - and supports the future of work now.
By Sharon Steeley, Sr. Director of Marketing, LifeGuides